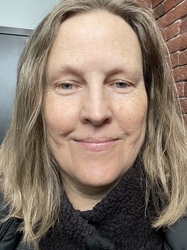 Born: 1963, Long Island, NY
Lives: Cambridge, MA

These most recent painting-sculpture hybrids reference, among other things, art history, perhaps most specifically mid-20th century Minimalism and current day abstraction. Over the past year while making this body of work, I've come to realize that by focusing on these two art-historical points, I'm echoing my own auto- biographical arc. I call them painting-sculpture hybrids because both concerns seem equally important.

Liza Bingham has a BFA from Cornell, and an MFA from Massachusetts School of Art and Design. She has exhibited in New York, Boston and Provincetown, including at Fireplace Project in East Hampton, NY, How's Howard, Boston, MA, and Schoolhouse Gallery, Provincetown, MA. Awards include grants from Mass Cultural Council and the Artist's Resource Trust. Bingham ran a pop-up space, doorway_a_gallery, at her studio building in Waltham, MA during the pandemic, 2020-2022.